Fort Peck Indian Reservation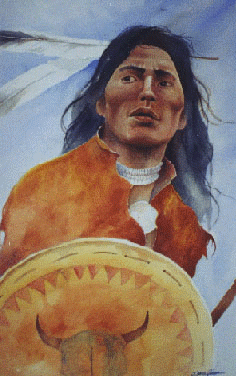 The history begins in 1851 at Fort Laramie in Wyoming where the tribes of the Montana and Dakota Territories treated with the United States. Out of this "General Council" territories were assigned and the Assiniboines claimed lands south of the Missouri River. The Sioux territory comprised most of the Dakota Territory (present day North and South Dakota). In 1855, the Blackfoot Indians were assigned a territory north of the Missouri River which extended east from the Rocky Mountains to an area that would become the western boundaries of the Fort Peck Reservation. Later the Sioux Indians began a migration into Montana Territory as political exiles from the Minnesota wars of 1862 and other bands moved into the area which was prime buffalo country.

Meanwhile the Sioux Indians signed another treaty in 1868 creating the "greater Sioux Reservation" in the Dakotas. The treaty included unceded territory which adjoined Assiniboine territory on it's western boundary. It was conflict over 1851 treaty violations, and the discovery of gold in the Black Hills that precipitated the wars surrounding the Battle of the Little Bighorn in 1876.

The Fort Peck Reservation was created in the aftermath of wars. For the Assiniboine and Sioux Tribes it was the beginning of a new history and life but one they did not choose. In 1886 at the Fort Peck Agency in Poplar and in Wolf Point, Montana, the Sioux and the Assiniboine Tribes exercised their sovereign powers and agreed with the United States government to the creation of the Fort Peck Indian Reservation. Fort Belknap and Blackfoot reservations were created at the same time. Together, the tribes ceded some 20 million acres of land to the United States. The Fort Peck Reservation lands of two million acres were retained by the Assiniboine and Sioux located there. In 1888 the Congress of the United States ratified the agreement, concluding three years of negotiations. For Montana it was the last step in the opening of the west, for the Great Northern railroad to come through in 1889, and statehood.

Watercolor artwork on this page by Lance Johnson.

For more information about the Fort Peck Reservation, contact:

Fort Peck Assiniboine and Sioux Tribes
P. O. Box 1027
Poplar, MT 59255
(406) 768-5155

Copyright © 1996-2004. All Rights Reserved.

8/14/04